The final release of Linux Mint 13 KDE is now available for download. Based on the KDE desktop version of Ubuntu 12.04, this is the current stable release and includes version 4.8.4 of the KDE Software Compilation.
A part of the Mint 13 family, it has been created by the Mint development team starting from the main Ubuntu distribution. It is perfect for those who want Ubuntu or Mint on their machines but are not comfortable with Cinnamon or MATE, and feel that Xfce might be downsizing too much.
The highlight of this edition is the latest KDE 4.8 desktop, which features the following improvements:
Kwin optimizations
Redesign of power management and integration with Activities
The first QtQuick-based Plasma widgets have entered the default installation of Plasma Desktop, with more to follow in future releases
New display engine in Dolphin
New Kate features and improvements
Functional and visual improvements in Gwenview
Backgrounds:
The default background is complemented by a collection of beautiful photographs from an Irish artist called "masterbutler".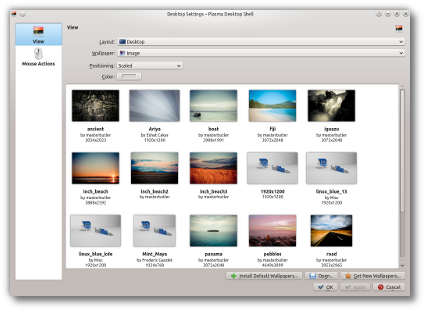 A collection of beautiful photographs from masterbutler
Search engines Yahoo:
Linux Mint switches to Yahoo as the default search engine for the USA, Canada, the UK, Ireland, Germany, France, Italy and Spain. Yahoo is the 2nd biggest search engine in the World, and the first major search engine to share revenue with Linux Mint. The results page is full of features, it comes with a nice layout, images, videos and blogs search, points of interest, time filters and cached results. Underneath the interface, Yahoo comes with a strong network of advertisers and its addition represents a huge opportunity and an additional source of income for Linux Mint.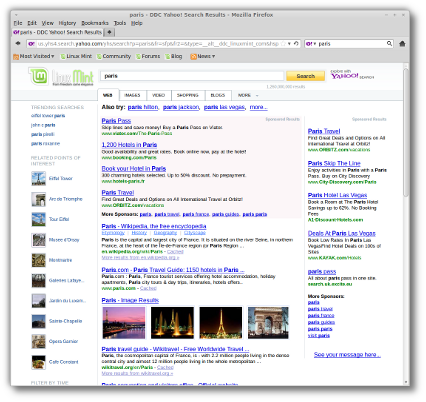 Yahoo is now the default search engine in Linux Mint
Search engines help fund Linux Mint: Search engines share with Linux Mint the revenue generated for them by Linux Mint users. The following search engines share revenue with us: Yahoo!, DuckDuckGo and Amazon. By using these engines for search or to make purchases, you help fund the Linux Mint project.
Easy installation of other engines: Clear explanations and easy instructions are there in Linux Mint for users to understand why some engines aren't installed by default and how to easily install them.
Upstream components
Linux Mint 13 features the following upstream components: Ubuntu 12.04, Linux 3.2, KDE 4.8.
Source :
Link